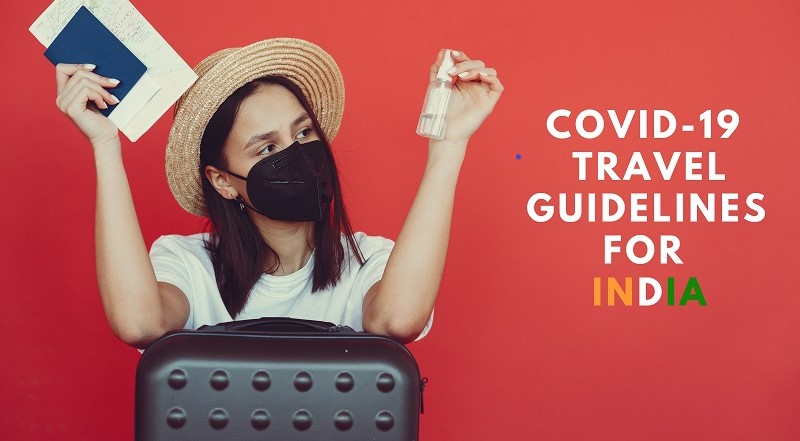 Last Updated on: 12th April 2021
The state of Gujarat has released new travel guidelines considering the ongoing situation of Covid-19 pandemic. While the Government lifted most of the travel restrictions in several phases post Covid-19 lockdown, the second wave of Covid in Gujarat has made the Government rethink on travel guidelines.
In a bid to deal with the second onslaught of Coronavirus, the Government has issued new restrictions on traveling and fines for rule-breaking. Given below are the intra-state and inter-state travel guidelines for Gujarat. The information is subject to change as per the updates issued by the Gujarat Government.
Gujarat Interstate Travel Guidelines
All passengers traveling to the state of Gujarat from other states or UT mandatorily need a negative RT-PCR report, not older than 72 hours, from an ICMR approved laboratory.
All passengers need to download the Aarogya Setu app.
Passengers traveling to Surat have to fill the Novel Corona Self Reporting Form and download the SMC Covid-19 Tracker app.
Gujarat quarantine rules:
Both domestic, as well as international passengers arriving at any of the airports in Gujarat, will be thermally screened. All passenger flying into the state are required to carry a negative RT-PCR test report. Children below the age of 12 years will be exempted.
All passengers flying to Surat in Gujarat to fill 'Novel corona self-reporting form' and to download the 'SMC COVID-19 Tracker' app (Android or iOS).
Citizens of Surat who have a recent travel history of abroad / states affected from COVID-19 are requested to download this application and send their GPS location every hour (From 9 AM to 9 PM), while they are in quarantine.
Domestic passengers
With the commercial domestic aviation services restarting in the country, any person from an Indian state can enter Gujarat. There is no restriction on inter-State and intra-State movement of persons, private vehicles and goods including those for cross land-border.
Passengers who don't come with the negative RT-PCR certificates will be retained till the time of the test results are out which will take about 6 – 7 hours. Passengers will need pay Rs 800 for the COVID test conducted at the airports. Please note that the on-arrival testing facility is not available at Rajkot and Vadodara Airports.
In the wake of  rise in Covid-19 cases, seven-day home quarantine has been made mandatory for all domestic travellers to the city of Surat.
International passengers
It is mandatory to carry a negative RT-PCR report not earlier than 72 hours before entering Gujarat. According to the Bureau of Migration, all international passengers travelling to Gujarat must mandatorily fill an online self-declaration form at least 72 hours prior to their departure to India.
On arrival all passengers are mandated to undergo quarantine for 14 days (seven days of paid institutional quarantine at their own cost, followed by seven days of isolation at home/suitable accommodation with self-monitoring of health). For compelling reasons or cases of human distress such as pregnancy, death in the family may seek exemption by applying here.
A few hotels in Gujarat are providing paid institutional quarantine facilities for international travellers. Readers are advised to check with the hotel authority regarding the facilities' current status to quarantine travellers.
COVID-19 testing guidelines and facilities in Gujarat
As sanctioned by the Indian Council of Medical Research (ICMR), coronavirus tests in Gujarat are of the following types: Real-time RT PCR tests, Rapid Antigen tests, CBNAAT tests, and TrueNat tests.
Along with government medical centres, numerous private labs have been set up following ICMR guidelines to meet the COVID-19 testing demands in Gujarat. You can find a list of government and private labs in Gujarat from where you can get a COVID test report here. There are an estimated 43 government hospitals/ laboratories and 55 private ones in the state of Gujarat doing COVID-19 testing using various diagnostic modalities.
Who can get tested?
Earlier, one would have to carry a COVID-19 test prescription from a qualified physician to get tested. However, the government has now eased the COVID-19 testing norms by issuing an order allowing citizens to simply walk into registered private laboratories or private hospitals and get themselves tested for COVID-19 at their own cost.
The Gujarat government has granted permission to private laboratories to conduct rapid antibody tests for detecting coronavirus infection. Laboratories have been asked to use ICMR-approved ELISA or CLIA rapid antibody test kits, and they must mention in the report which kit was used.
Following the guidelines laid out by Gujarat government, the following people should be tested for COVID-19:
All asymptomatic patients who have undertaken international travel in the last 14 days should be tested only if they become symptomatic ( fever, cough, difficulty in breathing)
All symptomatic contacts of a laboratory-confirmed case
All symptomatic health care workers
All hospitalized patients with Severe acute respiratory illness ( fever, cough and/or shortness of breath)
Asymptomatic direct and high-risk contacts of a confirmed case should be tested between day 5 and 14 of coming in his or her contact
Healthcare workers who examined a confirmed case without adequate protection
Aside from the list of prioritized people above, you should get tested for COVID-19 if you have one or more of the following clinical symptoms for a prolonged duration: fever, difficulty in breathing, cough, sore throat, running nose, loss of taste or smell, and body pain. It would take anywhere between 3 hours to 2 days for the test results to arrive. Until then, you must isolate yourself to prevent the spread of infection.
How much does the test cost?
The RT-PCR test would cost ₹700 for samples given at the laboratories or collection centre and ₹900 for samples collected from home or hospital or isolation centres.
The government-mandated that an ELISA antibody test would cost Rs 450 if done at the laboratory and Rs 550 if samples are collected from home or from the hospital. Similarly, the upper limit of the CLIA antibody test at the lab is Rs 500 and for home/hospital at Rs 600.
It's recommended to call the toll-free number 1075 or central helpline number +91-11-23978046 for information before going to get tested. In Gujarat, you may also call 104, the state helpline number for COVID-19.
Please carry your government ID card (Aadhar card/Passport/Voter ID) and proof of your address when you proceed to get tested at any of the laboratories/hospitals.